How to Have a Successful High School Exchange, by Matthew Garrett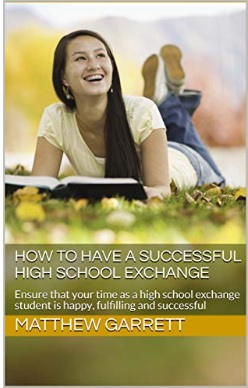 185-page Kindle book
$6.99
The Exchange Student Tips website aims to help you successfully apply and prepare for a student exchange. My new eBook – How to have a Successful High School Exchange – tells you how to succeed during your exchange.
Success isn't guaranteed
People often describe student exchanges as "a great opportunity" or "a chance to do something amazing". Their choice of words is very deliberate. Your success as an exchange student isn't guaranteed. Every year, many students choose to cut their exchanges short and go home early. Many more students make mistakes which mean that their time on exchange isn't as successful or as happy as it could be.
Successful student exchanges don't just happen. You have to make them happen. This book will help you to make your own successful exchange happen.
Safety first
There are numerous risks which you'll need to think about and manage both before and during your exchange. As an exchange student, you are in a new and very different situation which presents a host of risks. In How to Have a Successful High School Exchange, I identify the pertinent risks you will encounter on exchange and tell you how to avoid these.
Host family
Your relationship with your host family is the most important interpersonal relationship you'll have as an exchange student. A close, trusting relationship with your host family will go a long way to ensuring the success of your student exchange.
How to Have a Successful High School Exchange has an entire chapter devoted to establishing and maintaining a good relationship with your host family. It tells you the correct way to approach the relationship, to help get things off to a good start. Just in case things get off track, the book also provides troubleshooting advice regarding sibling jealousy and sibling infatuation, too-strict host parents and law-breaking host parents, and everything in between.
Handling the ups and downs
Life on exchange can be an emotional rollercoaster, with plenty of highs and lows. My book gives valuable advice on keeping the high points in perspective. It also tells you how to deal with the low points and stay positive during your exchange. Topics the book covers include:
how to establish, maintain and repair relationships with your classmates
how to pace yourself and ensure that your time on exchange doesn't drag
how to deal with homesickness and avoid the temptation to cut your exchange short and come home
how to avoid boredom by finding free or almost-free things to do in your spare time
Advice for life after a student exchange
Importantly, How to Have a Successful High School Exchange also provides two detailed chapters on life after a student exchange. Many exchange students are surprised to find that returning home is one of the hardest parts of going on exchange. For some, it's a period of painful readjustment. My book tells you what to expect during this time, how to deal with reverse homesickness, and how to turn what you've learned on exchange into a wonderful legacy that can benefit you for the rest of your life.
This is the book I wish I'd had when I was an exchange student. It is comprehensive, pragmatic and easy to read. At $6.99, it could be a sound investment to ensure that your own high-school exchange is a success – or a wonderful present for a young person you know who is about to embark on an exchange.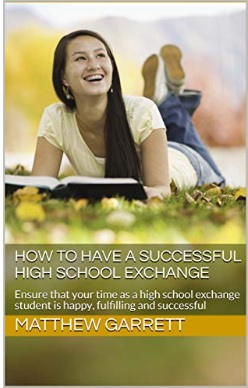 How to Have a Successful High-School Exchange
185-page Kindle book
$6.99