How to Have a Successful High School Exchange, by Matthew Garrett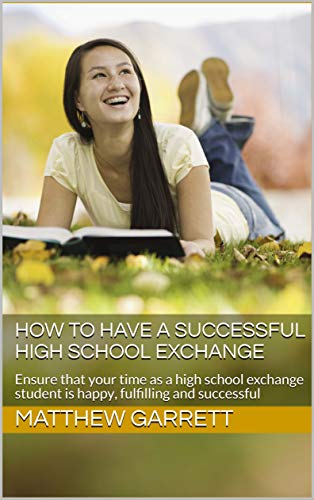 117-page Amazon Kindle eBook
$6.99
I helped you with your student exchange interview. Now, let me help you have a great student exchange.
It's true:
It's really important to do well in your interview.
But you also know this:
The time when you really need good advice is when you're on exchange. That's because you are in a new and very different situation – with a new family, new school, (usually) a new language, and new peers.
My book – How to have a Successful High School Exchange – is now available for instant download from Amazon.com. In it, I share hundreds of tips and strategies to help you succeed when you're on exchange. These tips and strategies all work, too – I know because I went on exchange three times and used them all, with great results.
What you get
With my help, you will:
Establish a close, supportive and respectful relationship with your host family – You have to have a great relationship with your host family. I tell you how to get things off to a good start, what your host family will expect of you, how to make amends when you make a mistake, and how to deal with all of the most common problems exchange students and their families encounter.
Fit in with your new classmates – Most exchange students are daunted by the prospect of going to a new school. I explain how to make a good impression with your classmates and teachers, how to fit in quickly, how you can keep the easy conversation and small talk going, and what school activities will help you to meet people.
Learn the language of your host country well – The quicker you learn the language of your host country, the quicker you'll settle in and feel at home. I provide you with a whole chapter of tips about how to learn a new language quickly and effectively, before you depart and after you've arrived.
Avoid homesickness and culture shock – Both homesickness and culture shock can be fatal to the success of your exchange. My problem solving chapter provides tips on minimising homesickness and culture shock that will help you to stay positive and keep on enjoying your exchange.
Know when to expect the ups and downs and remain positive throughout your exchange – No matter what happens, for your own sake, you need to remain positive while you're on exchange. I share the secrets to staying positive in the face of the many challenges you may encounter.
Use what you learn on exchange to benefit your career and later life – Clever exchange students find ways to use their experiences on exchange to benefit the rest of their lives. I tell you how to retain and use all the positive things you've learned in your career and personal life.
No need for trial and error
Most exchange students don't have any advice or mentoring to draw on during their exchange. They have to rely upon a painful process of trial and error. It can be a lonely and sometimes unhappy time.
Why do things the hard way? With my help, you'll get it right the first time.
This is the book I wish I'd had when I was an exchange student. It is comprehensive, pragmatic and easy to read. And because I want to help as many people as possible, I've made it available for just $6.99.
Click here to view the book on Amazon.com and to read a free sample