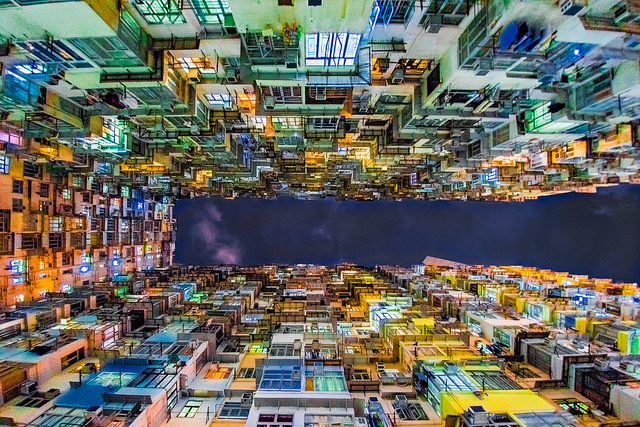 I want you to learn the language of your host country well – really well – for one very important reason:
If you speak the language of your host country well, your time on exchange will be much more successful, enjoyable, and easy. You'll be more outgoing. You'll fit in better with your classmates and host family. You'll feel better integrated into society, and more able to enjoy the culture of your host country.
In other words, put in the time to learn the language well, and you'll reap many rewards. There is literally no downside.
Here's how to do it.
Tip 1: Grammar isn't everything, but it is the most important thing
As an exchange student, you'll most likely learn lots and lots of words and phrases every day.
However, don't make the mistake of thinking that having a big vocabulary is enough. You will never become a truly accomplished speaker of another language until you understand the grammar, as well.
As an exchange student in Switzerland, I noticed that the exchange students who were the most confident and spoke the best German had an excellent grasp of German grammar. Those students who spoke German less well and with lower confidence generally had a lot of vocabulary, but had poor grammar skills.
Learning the grammar of another language is like learning a computer programming language. Hardly anybody has the patience and dedication to do it properly. However, if you are dedicated enough to really learn the grammar of your new language well, you'll learn your new language faster and better.
How to do it
You can learn vocabulary of a second language by osmosis – by being around native speakers and listening to them speak.
Grammar isn't like that. You can't hope to learn grammar just by listening to others. You need to rote learn grammar concepts, and then do exercises which help those concepts to become ingrained.
Initially, you need to be familiar with a few basic concepts of grammar – the so-called "parts of speech". In your mother tongue, learn the meaning and roles of nouns, verbs, adjectives, adverbs and pronouns. Learn about cases (nominative, accusative, dative) and the past, present and future tenses. Find out about the concept of verb conjugation.
Then, do some research into your new language. For example, find out if it has "formal" and "informal" forms of address, and learn when it is appropriate to address people formally and informally. You should also learn whether there are any particularly unusual, difficult or important concepts in the grammar of your new language of which you should be aware. For example, students of French usually really struggle with the subjunctive case.
Next, you need to find a good grammar textbook or other resource. For European languages, I recommend the Schaum Outline series of books. Otherwise, you can check with language teachers at your high school, or call the modern languages faculty at your local university to see which books and other resources they recommend for learning grammar. Whatever you use should explain concepts clearly, contain exercises which allow you to put the theory into practice, and should contain an answer key so that you can check your progress.
Do the time
Once you've done your background research and found a good grammar book or other resource, you need to get down to work. Try to set aside some time every day to rote learn your grammar and do some practical exercises. I used to learn German grammar on the 45-minute train trip to and from school while all of my classmates were doing their homework.
Is learning the grammar of your new language in this way dry and boring? Mostly, yes.
But does it give you a giant pay-off? Absolutely.
I guarantee that focussing on grammar and learning it well will make you a more confident and accomplished speaker of your new language.
Tip 2: Consume as much of the new language as possible
Your time as an exchange student represents a unique opportunity to spend all day, every day immersing yourself in another language and culture. Generally speaking, the more of a new language you expose yourself to, the more you'll retain and recall.
So, from the very first day of your arrival in your host country, you should absolutely binge on the language and culture of your host country. Watch as much TV as possible. Listen to the radio as much as possible. Become a voracious consumer of magazines, newspapers and websites. Talk to anyone and everyone you meet – not only your classmates, but also the elderly lady next door, the conductor on your morning train and the guy who brews your coffee each morning. View every day as an opportunity to stuff your brain with the language of your host country.
Doing this all day, every day, will have several benefits. Like a sponge, your brain will soak up all of the new words and phrases you hear and will store them for you to use later. Hearing all of that language will also help to improve your accent and make it more natural-sounding. You'll also be able to hear a lot of sound, grammatically correct language, which will help you to see the grammar principles you're learning (see step 1 above) being put into practice.
Tip 3: Communicate as little as possible in your mother tongue
The flipside of point 2 is that it's very important for you to consume and speak as little of your native language as possible.
The reason for this is simple:
Your new language needs to become the language which dominates your communication and thought patterns. The longer and more intensively you continue to communicate in your native language, the longer it will take for your new language to get ingrained and become your primary language of communication. And the longer that takes, the less time you'll have to practise your new language.
And, of course, practice makes perfect.
For this reason, you should stop speaking your native language as much as possible. Keep communications – particularly phone conversations – with your family and friends at home to a minimum. If you have a choice, purchase magazines, books and DVDs in your new language rather than your native language.
Perhaps most importantly, you need to avoid hanging out frequently with other speakers of your native language. Specifically, you should avoid spending too much time with other exchange students who share your first language. It's true that other exchange students can be fantastic sources of comfort and support – particularly when things are tough. However, if they have the same native language as you, spending too much time with them can also really delay your language learning.
As a compromise, consider hanging out with other students who have a different monative language to you. If your native language is English, hang out with the exchange students from Brazil, or Japan, or Hungary. That way, you'll still get the benefits of support and camaraderie from other exchange students, but you'll be much more likely to communicate in your new language.
Tip 4: Get a language mentor
I recently read an article about engineers. It said that you need to do an awful lot of engineering before you can become a good engineer. Irrespective of how smart they are or how good their grades are, engineering graduates usually need to do a lot of hands-on, practical work and make mistakes in order to learn the craft of their profession. Only once an engineer has made those initial mistakes and learned from them can he or she really understand how to do the job well.
Like a new engineer, when you first start learning your new language, you are bound to make a lot of mistakes. You'll mispronounce things. You'll use the wrong words. You'll refer to things by the male pronoun instead of the female pronoun, and vice versa. Making such mistakes and learning from them is all part and parcel of becoming a truly good speaker.
To get you through this initial stage, you need to recruit what I would call a "language mentor". Your language mentor should be a host parent, host sibling, or other trusted person who speaks the language of your host country as his or her mother tongue.
During the first or second month of your exchange, you should sit down with your language mentor every night for at least a couple of weeks and talk for an hour or two in your new language. The purpose of these discussions will be for you to practise speaking the language and put all of the vocab and grammar you're learning into practice. It will allow you to make mistakes in a safe, low-pressure environment, in front of a trusted person who won't react negatively to your mistakes.
The more you speak with your language mentor, the more mistakes you will make and get out of the way so that you don't make them later. You should become a much more confident and fluid speaker, as well. Try it.
Tip 5: Ask questions of everyone else
Obviously, you'll lean heavily on your language mentor in your first weeks and months on exchange. But you should also feel free to ask your classmates, teachers, other host family members and fellow exchange students for help with your new language.
Until I was a really confident German speaker, I would constantly ask questions about the language to anyone who was available. I'd ask my classmates about verb conjugations. I'd ask my host siblings how to put things into the past tense. I can even remember pointing to a word in a German-language book and asking a stranger on a train what the word meant.
Did it sometimes take courage to ask so many questions?
Sure. In fact, sometimes I felt like a complete ignoramus, particularly at the start of my exchange year. But I honestly never had anyone react badly to such a request. Everyone was helpful and did their utmost to explain things to me in a useful way. They even spoke very slowly to me at the start of my exchange, when I was really struggling.
Like me, you'll probably have a thousand questions about your new language, particularly early on in your time on exchange. You might worry that your constant language-related questions will drive people crazy. However, the truth is that almost everyone will see how hard you're working to learn a new language – their language – and will be happy to help you. So, ask away.
Tip 6: Practise, practise, practise
It's easy to feel confident about understanding a language when you're at home in your bedroom learning vocabulary or talking to your language mentor.
It is far harder to put all the theory you've learned into practice by conversing with actual people in the real world. In fact, it can be very intimidating to enter a shop, bank, or train station and start interacting with the people who work there.
Here's the thing, though:
Each time you talk to another person and practise putting sentences together and listening to the response, it gets a little easier. The more you talk in your new language, the better you will get at talking. Keep talking, and your confidence will snowball.
So, talk as much as you can. Join in the dinner table conversation with your host family, the post-soccer game discussion with your class mates, and the before and after-school chit chat on the school bus. It is all a great opportunity to practise your new language and build confidence in your speaking. Make a deliberate effort to go out of your way to talk, rather than sitting there silently.
It's also important to practise speaking to strangers, too – for example, when you're shopping or buying train tickets. The reason is that the language and vocabulary you use at home with your host family and at school with your classmates is likely to be different to the vocabulary you use when you're talking to less familiar people, in more formal situations. You need to talk to people in both familiar situations (eg your host family) and less familiar (eg a bank teller) situations. Talking to people in a broad range of situations will give you an opportunity to practise a broad range of words and phrases.
Tip 7: Supercharge your vocabulary learning
Like most exchange students who are serious about learning their new language, I used to carry around a little note book for language learning. Every time I encountered a new German word which I thought was useful, I'd write it down in the note book.
Unlike most exchange students, though, I'd add details about the word. If the word was a noun, for example, I'd also look up the gender of the word, and the plural form, and would write those down, as well. Then, I'd learn the word, its gender, and the plural, rather than just the word itself.
Learning vocabulary in this way took more time, but ultimately enabled me to speak German in a much more error-free way than if I had just learned the word itself, with no additional detail.
I recommend that you not only keep a little note book to write new words in, but that you add some details which will be useful to know later on. If your new language is like German, with gendered nouns, learn the gender together with each noun you learn. If the language is a tonal language, like Mandarin or Vietnamese, learn the appropriate tone that goes along with each word. If the language has characters which need to be drawn in a particular order, like Japanese, learn that order together with the meaning and pronunciation of the word.
Learning vocabulary in this detailed manner takes more time up front, but will save you much time and many errors down the track.
Do you have any language learning tips or tricks that have worked for you in the past, and which you think could be useful for other exchange students learning a new language?  If so, please tell us about them in the comments area below.
As always, I wish you the best of luck.
Matt